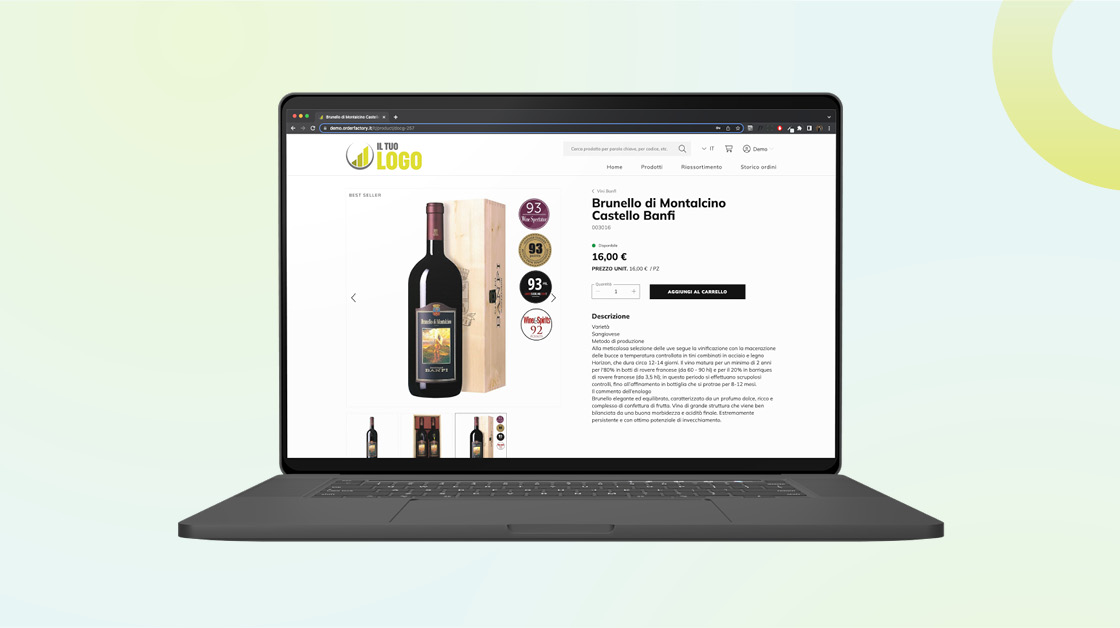 Welcome Order Factory: B2B Ecommerce
Order Factory is the B2B portal for your Professional Ecommerce.
A complete sales solution for your B2B customers: allow your customers to manage their orders automatically and in total autonomy.
Online platform available for PC, Smartphone and Tablet.
The Order Factory B2B Ecommerce is designed for: customers, sales network, distributors, wholesalers, retailers, franchises.
Welcome Order Factory: B2B Ecommerce
B2B Ecommerce functionality
Advanced Product Catalogue
Product catalog with categories, photo gallery, detailed information. Your customers have access to the product catalog to consult and send orders in total autonomy.

Product restocking
Ability to quickly reorder products already purchased previously. A pre-compiled list is available based on the last orders placed, with information, prices, images, quantities, order date.

Order history
Complete summary of all orders placed. The overall and specific summary for each order line is available.

Registry card
Complete customer master data with all your data.

Personalized prices and price lists
Possibility of managing different basic price lists, prices and customized discounts for individual customers.

Brand Management
Possibility to browse the product catalog by brand, with filters and dedicated pages.

Excise management
Management of Italian taxation for the sale of alcoholic beverages.

CSV import
possibility to import and export all information via CSV file (Excel format).

API integration
Order Factory integrates with company management and third party billing systems via API.

Custom domain
Domain dedicated to your company. By purchasing Order Factory, you will activate your portal on a domain dedicated to your company: companyname.orderfactory.shop

Reserved access
Portal usable only with secure access credentials set for each customer.

Additional Modules
Possibility of implementing B2B Ecommerce with additional modules such as: variant management, certified master data, server space extension, related products, banner management, news management, additional languages, document management, payments, integration with Digital Publishing Paginae App.

Advanced and responsive UX
Shopping experience optimized to be usable from any device: PC, Smartphone and Tablet.

Order Factory Benefits
Complete autonomy of the customer in the creation of orders
Maximum efficiency in the sales process
Customizable shopping experience based on the needs of the company
Over 20 add-on modules available
Management of over 500 thousand articles
Management of catalogs and customized price lists for the final customer
Powerful and efficient solution, yet cheap and simple to use
Integrates with any ERP
Usable from Web, Smartphone and Tablet
OF Enterprise: are you looking for a customized B2B Ecommerce?
OF Enterprise is the customized solution for your professional Ecommerce.
A powerful B2B Ecommerce, capable of managing thousands of references with complex price lists. Unlimited users, unlimited products, shipping management, Product Configurator, Advanced Canvass Configurator, Catalogue, and many other features.
Boost your Sales! Try the Order Factory B2B E-commerce free for 15 days.