Unoaerre recounts the long tradition of art and gold. It is the first goldsmith company born in Arezzo in 1926. A catalog with over 2000 products distributed in more than 40 countries, 4 thousand Italian points of sale with a network of about 100 distributors.
Links
Categories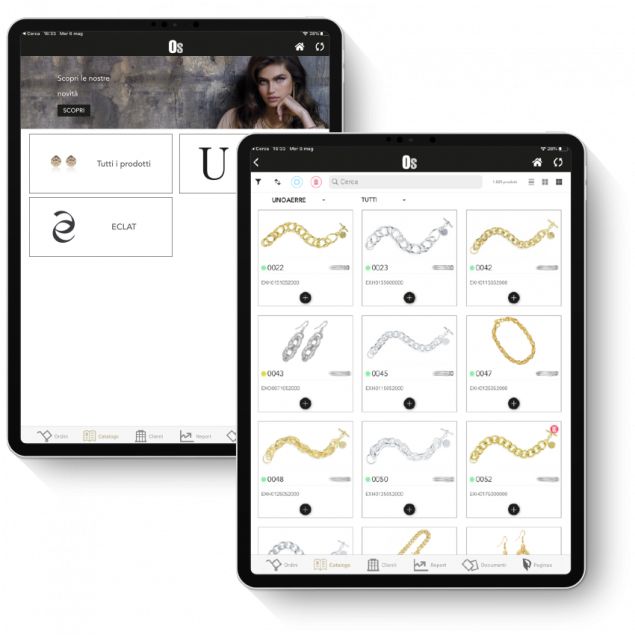 Needs
Selling online, renewing and enhancing Unoaerre's digital proposal
Improve the usability of the site
Highlight boutiques and retailers with a Store Locator
Centralized a more effective management of the sales force
Speed ​​up and optimize order collection
Eliminate the use of paper and printing costs in company communication
Optimize all company procedures
Show the products catalog in a captivating and persuasive way
Create custom quotes in an agile way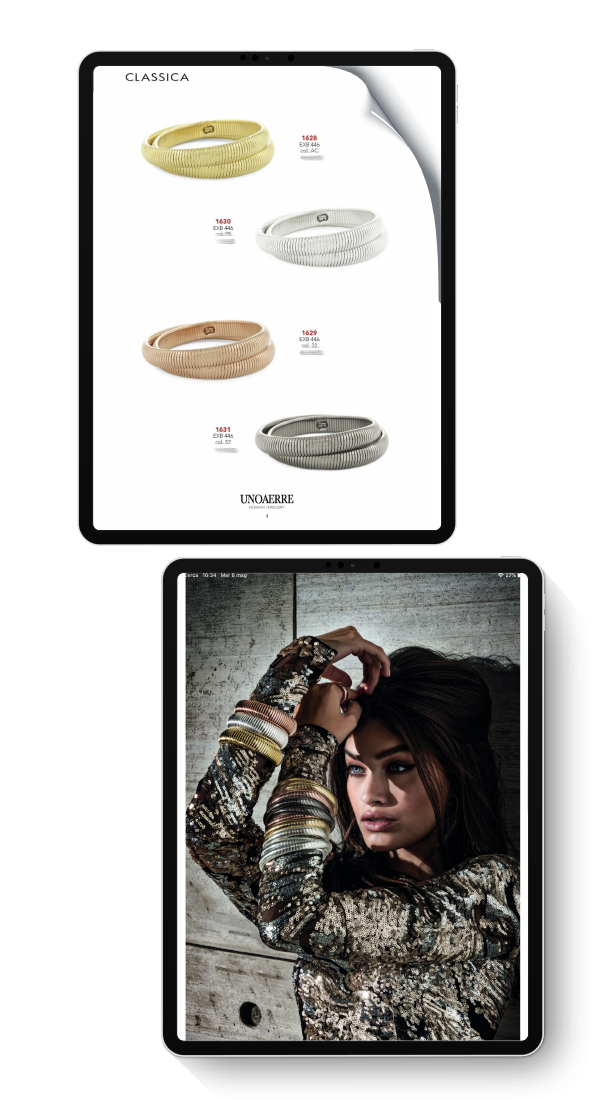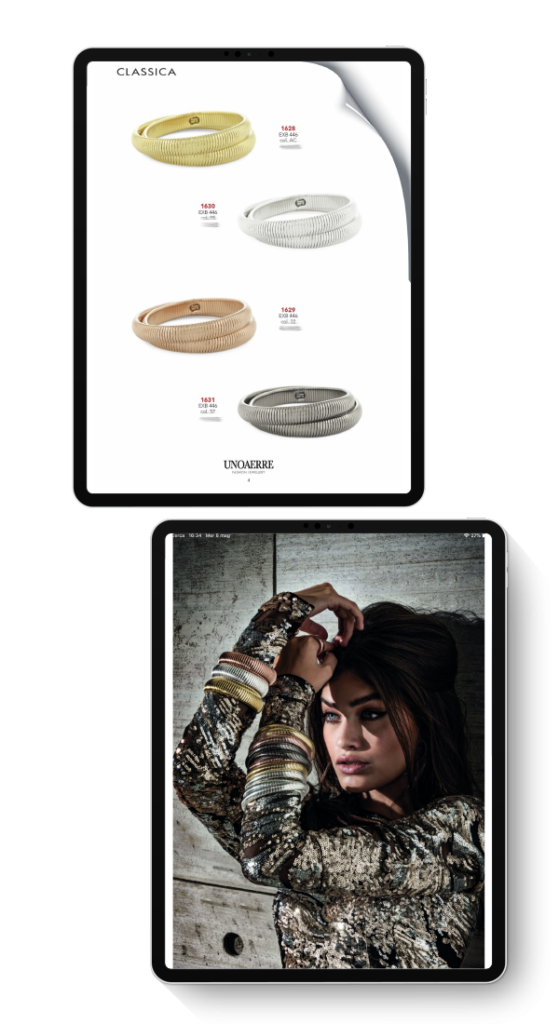 Soluzioni
Unoaerre Digital Solution
E-commerce Magento 2 and complete website Restyling
Development of a website, not only as a showcase for the brand, but as a tool to be able to sell products online thanks to e-commerce. We are talking about a multilingual Luxury Jewelery E-commerce on the Magento 2 platform. The Magento 2 platform is not standard, but customized according to the company's needs: on the one hand, the online sale of products and, on the other, the possibility to have a showcase site where you can offer your special jewels. Total restyling of the interface graphics, focused on the User Experience (UX) of the user.
Orders acquisition from tablets and Digitization of the sales network
Unoaerre has chosen our OS Enterprise sales network management solution: a software that allows you to collect orders from mobile and to manage all sales activities by the sales network in a fast and optimized way.
Digital catalogs with a sophisticated design on the App
Thanks to Paginae, Unoaerre catalogues, with over 2,000 products, are digital, interactive and impactful. Browsable and enhanced by multimedia contents (videos, links, images, documents, etc.) with the possibility of placing orders and buying directly from Mobile.
Comprehensive, professional and beautiful sales propositions
Through our Quotation Tool, a tool for creating estimates in an agile and automated way, the company can create personalized, elegant and professional offer proposals. A perfect tool for all commercial agents.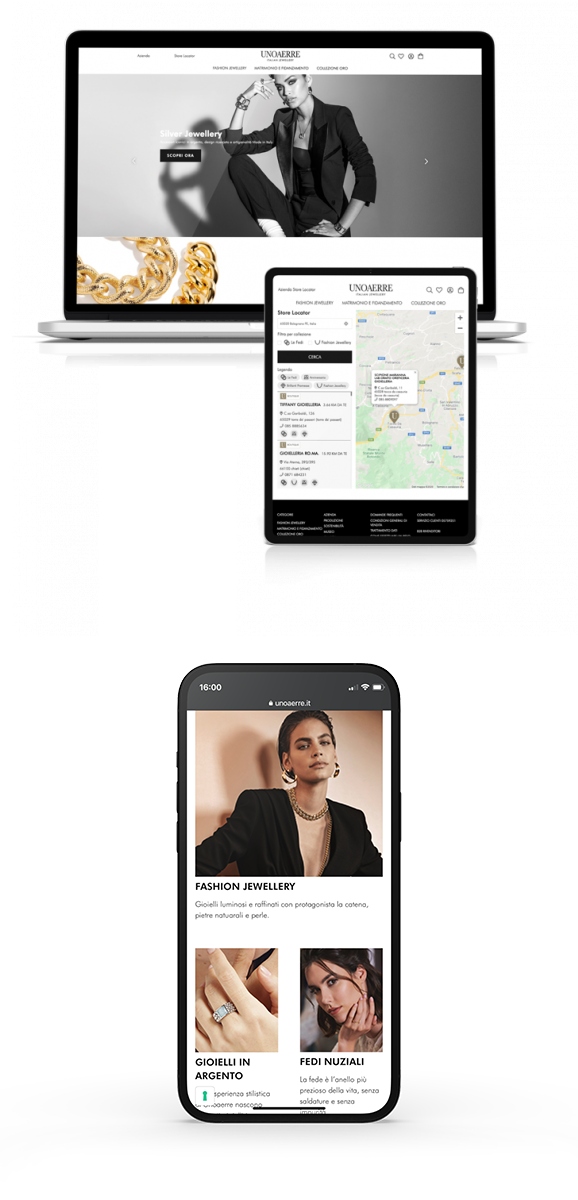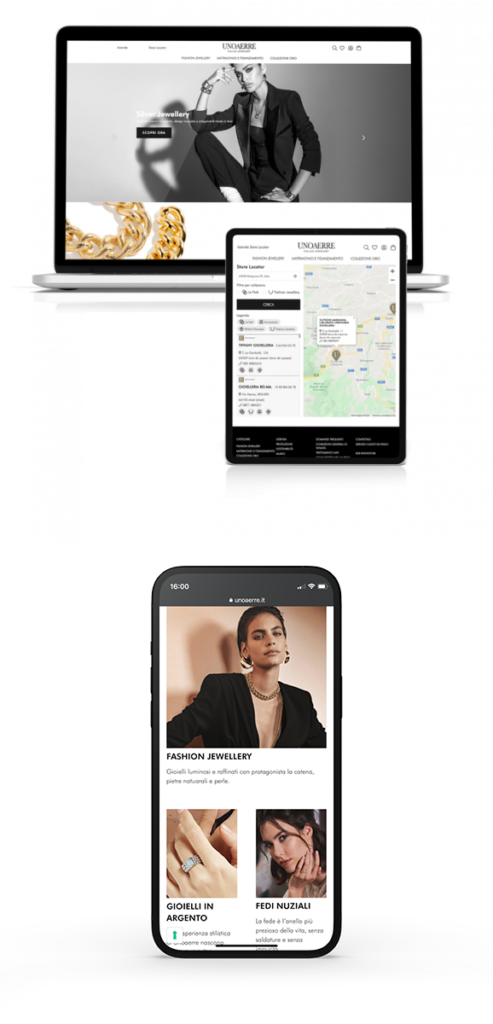 E-commerce and UX
Online jewelery sales and UX restyling
E-commerce development Magento 2 open-source Multistore, renewed UX.
Internationalization (bilingual)
Total restyling of the graphics with specific focus on the study of UX
Store Locator with all Unoaerre stores in the world
Visibility management of products in the catalogue
Price visibility management
SEO optimization
Site integration with company management
Integration with Marketing tracking and implementation of dedicated events (Google Tag Manager and Analytics)
Advantages:

Creation of a showcase site and online store
Optimizing site performance
Automated catalog management thanks to the integration with the company management system
Data centralization of all Unoaerre stores worldwide
SEO optimization and better indexing on search engines
Better shopping and browsing experience for users
Fully customized graphics
Possibility to manage the visibility of the products in the online catalog
Ability to manage price visibility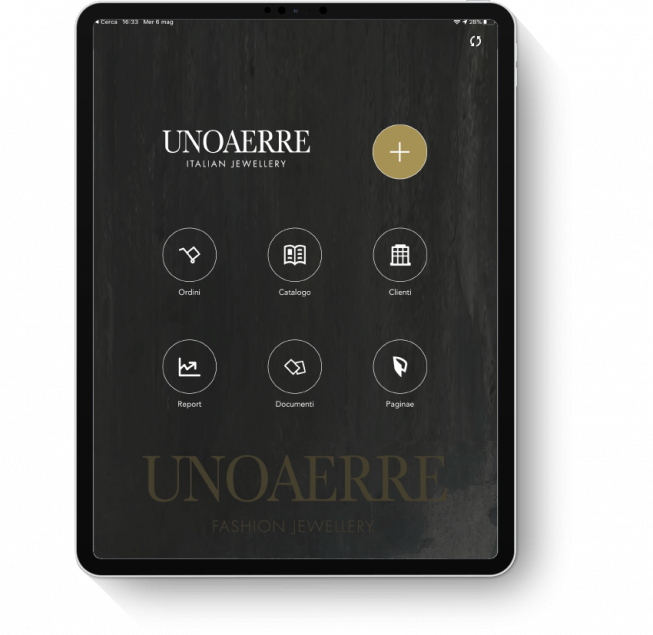 Gestione ordini e rete vendita
OS Enterprise
The Sales Force Automation Software OS Enterprise simplifies and optimizes the collection of orders from Tablets and the management of all activities related to the sales force. The tool also gives the possibility to configure product kits and the size of the rings (bands).
Advantages:
Orders processed faster and without errors
Commercial network management optimazed
Greater control of the agent on orders in the after-sales phase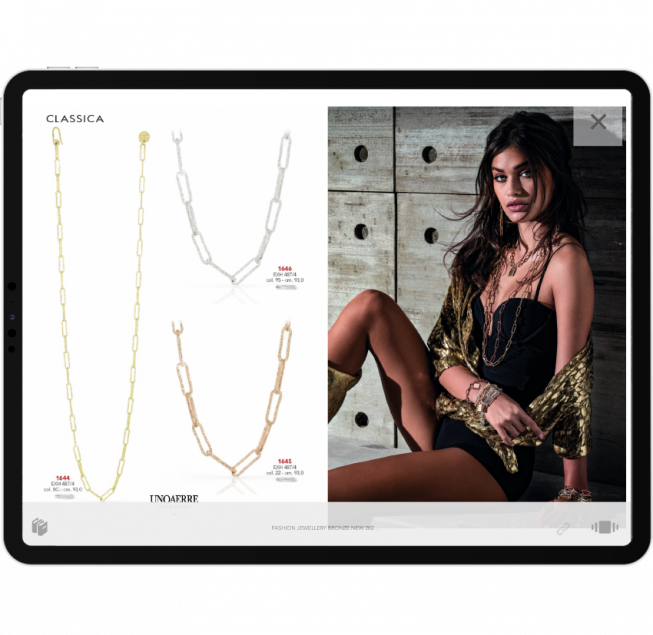 Digital catalogues, orders and purchases from Tablet
Paginae
Thanks to the Digital Publishing Software Paginae, the sales experience becomes interactive. The catalogs are on apps, digital, impactful, browsable and embellished with multimedia content (videos, images, links, documents, etc.). Orders can be made directly from mobile and the items can be purchased in just a few clicks.
Advantages:
Show and distribute your catalogs from the App
Catalogs always up-to-date and at hands
Products enhanced with engaging content
Opportunity to win over customers and make them live an interactive sales experience
Printing costs and the use of paper are eliminated
Multi-brand sale within the same App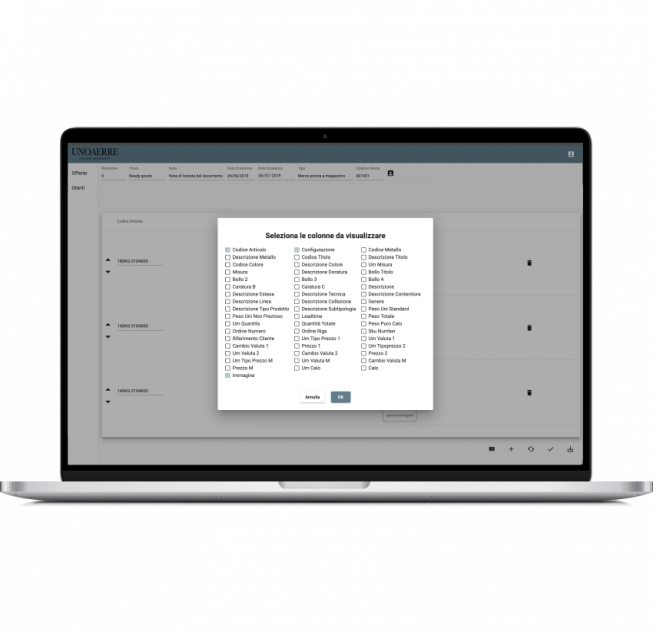 Fast and appealing estimates
Quotation Tool
Comprehensive, professional and beautiful sales propositions.The Quotation Tool responds to the needs of foreign salesmen who need an agile tool for creating estimates for their custom products. The company can thus create customized, elegant and professional offer proposals, quickly and automatically.
Advantages:
Standardization of the procedure for proposing bids
Ease of use of the quote creation tool, even for those without technical knowledge
Centralization of all sales offers integrated with the management system, each sales proposal is shared and monitored by the agents
Speed ​​in the creation of estimates and total sharing of information