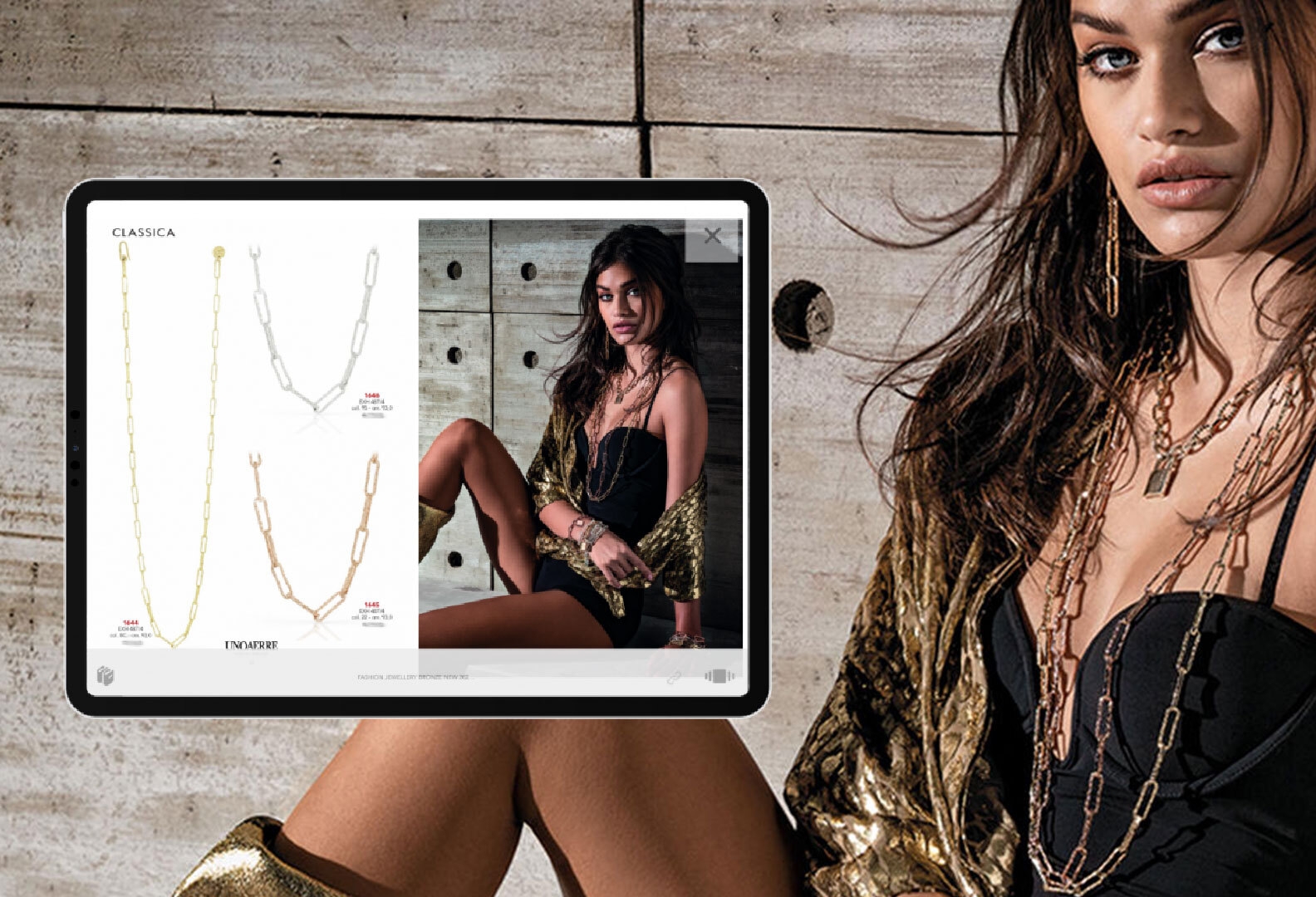 Unoaerre tells the story of gold: the first goldsmith company founded in Arezzo in 1926 by the two founding fathers Carlo Zucchi and Leopoldo Gori.
Over the years, generations of goldsmiths, masters, technicians and artists have made Unoaerre one of the main producers in the goldsmith sector, in Italy and in the world. There is no country where there is no Unoaerre jewel: over 2000 products in the catalog distributed in more than 40 countries, 4 thousand Italian points of sale with a network of about 100 distributors.
The digital solutions chosen by Unoaerre, including new technologies, research and development
Unoaerre has chosen many of our digital solutions to pursue its objectives for over 90 years: to design, produce and distribute precious objects and fashion accessories using innovative technologies and promoting constant research and development in compliance with social and environmental sustainability.
The Tuscan company's needs include online sales and the renewal and enhancement of its digital population.
Not only that, the Tuscan company, thanks to its extensive network of sales agents, needed centralized and effective management of the sales network and to speed up order collection by optimizing every business procedure.
It needed a digital and engaging tool to show its precious products, eliminating the use of paper and printing costs, towards a green and eco-sustainable choice.
Up to the need to create personalized, professional but beautiful estimates.
E-commerce and graphic restyling of the site
For the Italian design jewelry company, we have developed an E-commerce that was both an online sales tool and a brand showcase.
A multilingual Luxury Jewelery E-commerce on Magento 2 platform.
Not only that, we have performed a total restyling of the interface graphics, focusing on the user's User Experience (UX).
Orders from Mobile and Digitalization of the Commercial Network
Here then, the excellence in the world of jewelry, a reference point for the production of gold (but also of silver jewelry) has decided to acquire orders from Tablet and digitize its sales network thanks to our Order Sender Enterprise solution.
Thanks to the Sales Force automation software, the management of the sales network is optimized, agents are able to collect orders quickly, without errors and have greater control over orders in post-production.
Digital catalogs, interactive sales experience
The sales experience is interactive, thanks to the Digital Publishing App Paginae: digital catalogs with a refined design, impactful, browsable, always updated, at hand and enriched with multimedia contents (videos, images, links, documents, etc. .).
Thanks to Paginae, the company's products are enhanced and can be purchased directly from the App, plus printing costs and paper use are eliminated.
Agile, automated and beautiful quotes
The estimates are also made in an agile and automated way: through our quotation tool, the Quotation Tool, the sales proposals are complete, professional, personalized and beautiful. In this way, the method of proposing estimates is standardized and even those who have no technical knowledge can create sales proposals quickly and easily.
All offers are centralized and integrated into the management system, therefore shared and monitored by agents.
20 Nov 2020