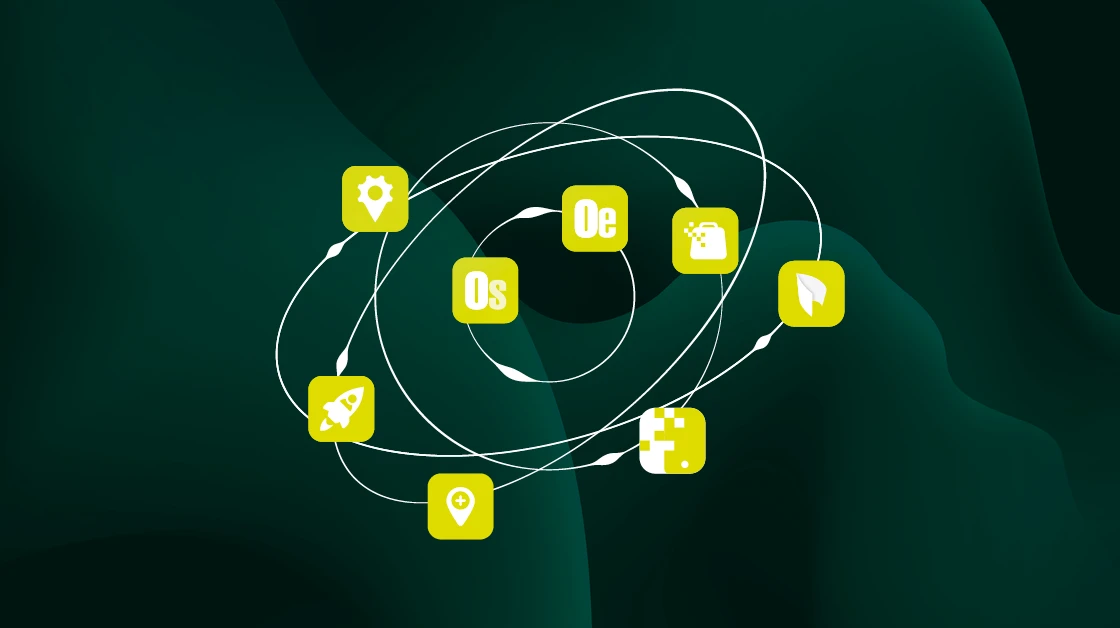 OS Mobile Suite: App for your Business
The Cosmobile Software House, for over 10 years, has been designing and developing Digital Solutions, to manage, configure, sell products.
These are solutions designed to optimize all business processes thanks to corporate digitization: from pre-sales to sales, up to after-sales. We develop your strategy in a single Digital Ecosystem. Innovative, complete and customized platforms.
Business innovation app
OS Mobile Suite is a range of integrated apps dedicated to business innovation. All natively developed by our Cosmobile Software House.
Digital ecosystem
OS Mobile Suite is the Digital Ecosystem for your company:
Simple and efficient: Powerful but very easy to use apps, even for those without any technical skills, dedicated to specific sectors and needs.
Works offline: Apps that work even without an Internet connection, and that allow you to work offline, wherever you are.
Integrated with the major ERPs: our Apps integrate with any company management system
Customizable: App with additional modules to get the most out of your business, according to your needs
On all devices: Apps available for Web, Smartphones and Tablets, iOS and Android
Team Cosmobile native development
15-day free trial or possibility to request a DEMO
Mobile solutions for your business
The Mobile Solutions developed by Cosmobile:
They allow you to save time, costs and resources
They improve and simplify all business processes
They have a Cloud structure for saving and exchanging data with ERP
They offer perfect usability, optimized UI&UX
They can be integrated with each other
They eliminate the use of the card
OS Mobile Suite: App for your Business
Order collection app for Sales Networks and Agents
Order Sender is a complete solution for collecting orders and managing the Sales Network from Mobile, dedicated to sales agents.
A mobile sales tool that works offline, easy to use, eliminates compilation errors, saves time and resources. It integrates with any ERP, data is always safe thanks to Cloud Backup. Available for Web, Smartphone and Tablet (iOS and Android) and Web. Try it free for 15 days.
Sales Force Automation Software for Sales Networks
OS Enterprise is the order collection software from Tablet: the Sales Force Automation n.1 solution for Commercial Networks.
Developed in 2010 by the Cosmobile Software House, used by over 500 Italian companies, more than 7,000 sales agents, over 800,000 orders per year.
A powerful and customizable solution, over 100 additional modules available, for collecting orders from Mobile and managing the commercial network. Automate order collection; allows you to manage over 500,000 items; eliminates order management times and errors; works offline and integrates with any ERP. Maximum efficiency in the sales process. Available for Web and Tablet, iOS and Android. Request a DEMO.
B2B Ecommerce for your professional clients
Order Factory is the B2B portal in SAAS dedicated to resellers, distributors, B2B customers, wholesalers, sales networks, franchises, to manage their orders in total autonomy.
Thanks to B2B Ecommerce, your customers can manage orders in complete autonomy, with maximum efficiency in the sales process. The shopping experience is customizable according to the needs of your business, over 20 add-on modules available. Possibility of managing over 500,000 items, management of catalogs and personalized price lists for the end customer. It integrates with any ERP. Available for web and mobile. Try it free for 15 days.
B2B Ecommerce on Smartphones
OS Retail is a B2B Ecommerce on Smartphone: always in your customers' pocket.
With OS Retail customers can send orders, replenish products, consult the catalogue, reorder items, all in total autonomy, from iOS and Android Smartphones, even offline. The App is customizable thanks to over 40 modules dedicated to the needs of each company. It integrates with any company management system. Request a DEMO.
Catalogs on App
Paginae is a Digital Publishing App: show your products on digital Catalogs and Price Lists, distribute them with an App.
Paginae allows you to have a mobile digital library for all editorial publications: catalogues, manuals, brochures, flyers, commercial flyers.
The contents become multimedia and interactive publications, always updated. Reduces all printing costs; it allows you to save time, costs and resources and to show your products on the go. Optimize the sales of commercial agents, amaze customers with interactive presentations. Zero card usage and works offline. Integrates with Adobe InDesign. Available for Smartphones and Tablets, iOS and Android. Try it free for 15 days.
App for technical interventions and sending reports
Tech Away is the App dedicated to technical assistance and sending reports on the go. It facilitates the work of technical operators and automates business processes related to technical assistance, repair and maintenance, up to the sending of reports.
It allows the management of technical interventions and the sending of reports on the move, from Smartphones and Tablets; all activities are automated and efficient, jobs are planned and scheduled, all from one device. The App works offline and saves time, costs and resources. All information is immediate, always updated and shared. It is possible to compile, sign and send reports from the App. The data can be exported to the company management system. Available for Smartphones and Tablets, iOS and Android. Request a DEMO.
Choose the perfect App for your Business.