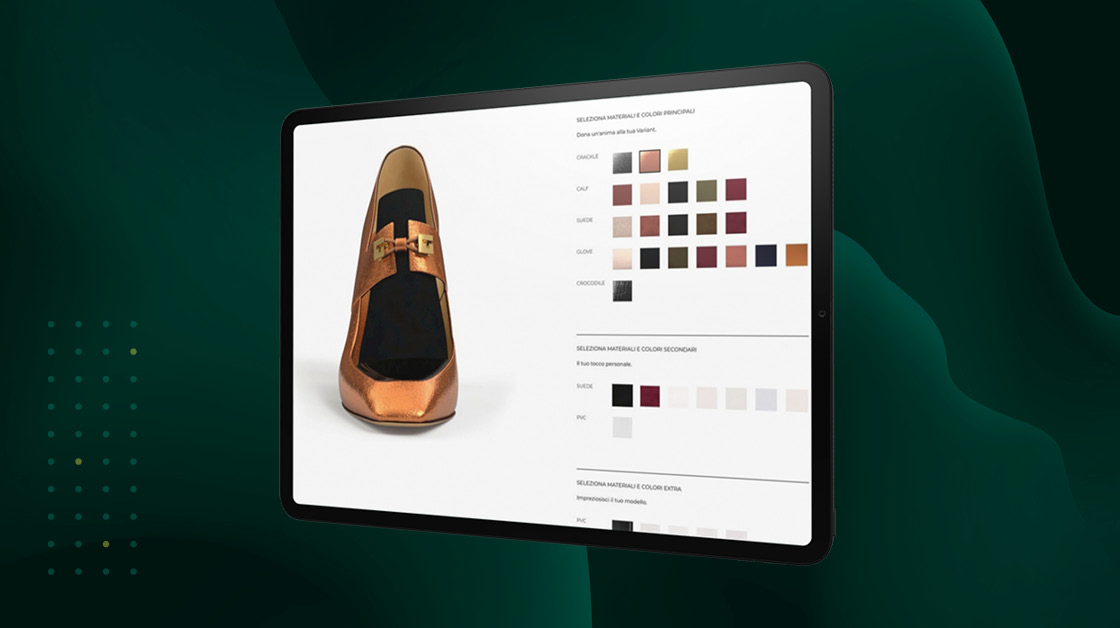 Configurator of products, projects, prices, quotations
Optimize sales and simplify purchases with a Product Configurator.
If your company has a vast catalogue, if you sell a complex product rich in components, if you have a Sales Network and want to guide it in drafting commercial proposals and estimates, the configurator is an indispensable solution for your business.
Configurator of products, projects, prices, quotations
Business configurator
Thanks to the customized Configurator, natively developed by the Cosmobile Software House, you can optimize the sales process of your products and simplify purchases, directing users towards the product they are looking for.
According to your needs, you have the possibility to configure products, prices, projects and estimates. We offer you a personalized configuration dedicated to your offer, your needs, your target: what you need to configure, why and for whom.
Advantages of the Configurator
Thanks to the Visiq Configurator, developed by Cosmobile:
Optimize sales
Simplify the buying process
Throw away the Excel and configure products, projects, prices, estimates
Save time, costs and resources: speed up sales, planning, estimating and order collection times
Maximum flexibility: easily find the ideal solution thanks to customer feedback
Improve the production process
Reduce complexity: customers easily find what they are looking for and your company easily obtains feasibility and cost analyzes and complete know-how on your products
Distribute the technical knowledge of your products to your technical team
Facilitate the work of the Sales Force in the creation of commercial offers in a short time
You integrate with any B2B and B2C Ecommerce, Order Management Software and Sales Network, such as Sales Force Automation OS Enterprise Software, Digital Catalog and CRM
Commercial configurator
Cosmobile offers you a perfect Configurator also for the Sales Network. Technical-commercial configurators dedicated to sales agents to create commercial offers in a very short time. Guide, simplify and lighten the work of your Sales Network.
Canvass CPQ configurator
Improve the efficiency of the Sales Network with the Canvass CPQ Configurator (Configure Price Quote). Allow sales agents to manage and configure even complex canvasses and offers, with particular combinations of prices and products: a winning tool for your commercial strategy.
Create Quotes with the Quote Tool
Another indispensable tool for the Sales Network is the Quotation Tool, which allows salespeople to create customized quotations. This improves the productivity of salespeople.
Configurator of products, projects, prices, quotations: integrations
We are integrated with the major systems on the market:
SAP, Zucchetti, IBM, Microsoft Dynamics, TeamSystem, Passepartout, Salesforce, JDEdwards, Danea EasyFatt, Fatture in Cloud, Atelier, Sistemi, Galileo, Mexal, Sage X3
Thanks to our decades of experience, we guide you in the design of the configurator according to your needs.